Biotech & Pharma Industry
We would like to share with you some of the successful applications which our products had helped our customers achieve better operating conditions in their manufacturing facilities.
Animal Vaccine Manufacturing - Solving premature failure of Gaskets
INDUSTRY & BACKGROUND
Pharmaceutical – Animal Vaccine Manufacturing
A world-leading animal health company, manufacturing a wide range of products from vaccines to wellness products.
The customer's US facility, which has been operational for almost 30 years, produces animal vaccines for various animal species ranging from dogs and cats to chickens, coyotes, and raccoons. Therefore, a complex variety of aggressive chemicals, steam, and mineral oils are used throughout the process in multiple applications.
CHALLENGES FACED
Over time, the plant had gradually introduced an increasing variety of elastomeric gasket materials to ensure compatibility and compliance across each process. As well as the complexity of specifying, validating, stocking and maintaining multiple gasket materials, the customer encountered many problems which continued to challenge process reliability and integrity:
> Steam exposure – gaskets would creep, causing the seal to loosen and leak over time.
> Mineral oil exposure – oil would attack rubber seals and cause premature failure.
> Chemical exposure – the plant had to fine-tune the elastomer selection for each process area.
OPERATING CONDITIONS
1. Size: 1/2" – 2" (ASME BPE)
2. Temperature: -120°F (-184°C) to +350°F (+176°C)
3. Application: Process Lines, Hygienic Couplings
4. Media: Clean Steam, Mineral Oil, Chemicals
5. Pressure: up to 100psi (6.9bar)
SOLUTION AND BENEFITS
Following successful trials across several application areas, Garlock's GYLON BIO-PRO® sanitary gaskets were adopted due to their superior performance, reliability, and extended service life. The plant runs on steam 24 hours per day, 7 days per week, so any leak/failure of a gasket is critical. The Garlock solution allows for longer service life of these systems so the plant can maintain running conditions as needed. Additionally, the unique GYLON® material does not creep in the steam lines, which ensures that maintenance teams do not have to regularly re-torque each hygienic coupling after thermal cycling. By switching to GYLON BIO-PRO®, the customer has also enjoyed the benefit of using a single gasket material for all process media and clean utilities. This means that all elastomer and PTFE gaskets are consolidated, reducing inventory and avoiding potential gasket selection errors. By switching to a Garlock solution, the customer is now enjoying improved efficiency and peace of mind.
Biotech Manufacturing - UV Dechlorination before Vapour Compression WFI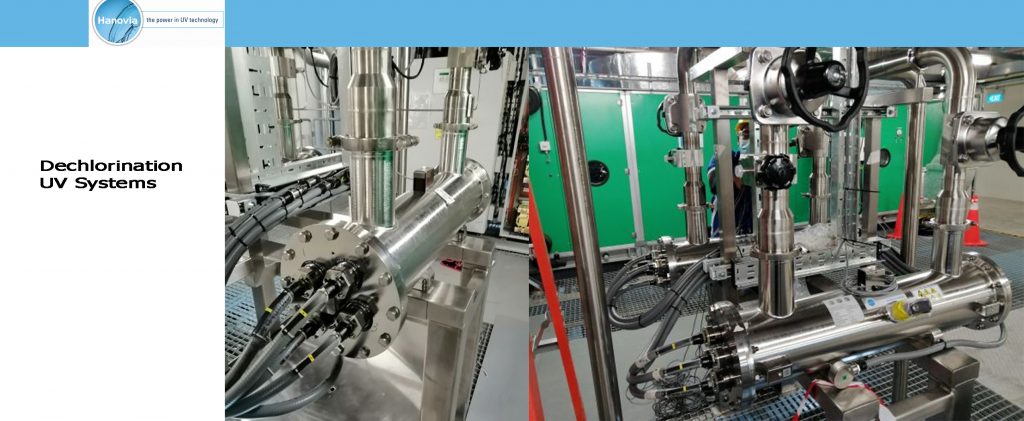 INDUSTRY & BACKGROUND
Pharmaceutical – Biotechnology Manufacturing
A world-leading healthcare company, manufacturing a wide range of Pharmaceutical products from Generics to Oncology products.
The customer's Singapore facility,  produces monoclonal antibodies and will be used to treat conditions such as rheumatoid arthritis, oncology and asthma.
CHALLENGES FACED
To reduce, minimise have better control of residual chlorine in the pipeline prior to water entering vapor compression (VC) distillation system for further purification to achieve WFI grade water. It was expected that with this upgrade, there's less corrosion potential of residual chlorine on the VC distiller, at the same time the de-chlorination process will not cause bacteria to proliferate leading to other issues downstream of the WFI generation process and water quality.
Initially, UV and SMB dosing with ORP control were evaluated. In the course of evaluation, the ORP based SMB systems pose operational risks, due to
1) ORP measurement requires comparative measurement and at least calibration once a month with calibration solution;
2) The SMB solution is not stable and reacts easily with air, and has to be consumed in 1-2 weeks, depending on the concentration after mixing with water. This also adds uncertainty to the reaction time for removal of free chlorine.
3) The SMB system adds microbial load into the water downstream of the process.
There are other known problems of an SMB system too:
Maintenance of dosing equipment;
Handling and documentation of hazardous material;
Scaling of VC distiller and process equipment downstream
Potential formation of sodium sulphate, which acts as a stimulant sulphate-reducing bacterium.
SOLUTION AND BENEFITS
With UV technology for de-chlorination, these risks are non-existent, because the technology itself is physical by nature. Also, it also acts as another disinfection barrier after chlorine, which gives additional disinfection log credit. In May 2020 decision is made to install a PharmaLine DC PH 0360 for this improvement scheme. The system was sized for up to 30m3/hr flow with 1 log free chlorine reduction. Result of the site acceptance test showed the system was able to reduce free chlorine concentration from higher than 1 PPM to less than 0.1 PPM. The UV system was installed before VC distiller feed, with a re-circulation loop to pre-treat the water storage tank. The microbial count test was satisfactory too, which goes to show the UV is acting both a residual chlorine barrier and a microbial barrier.
The operational and maintenance cost is very favourable, as there is much less equipment to handle as compared with a SMB system. The few consumables are UV lamps, seals and O-rings, replaced every 12 months, and quartz sleeves, replaced every 3 years of operation. This contributes significantly to savings on service and maintenance resources and reduced production downtime, meaning better operating profit over the long run.
Learn more about Pharma UV
Biological Manufacturing - Inflatable seal on Washer door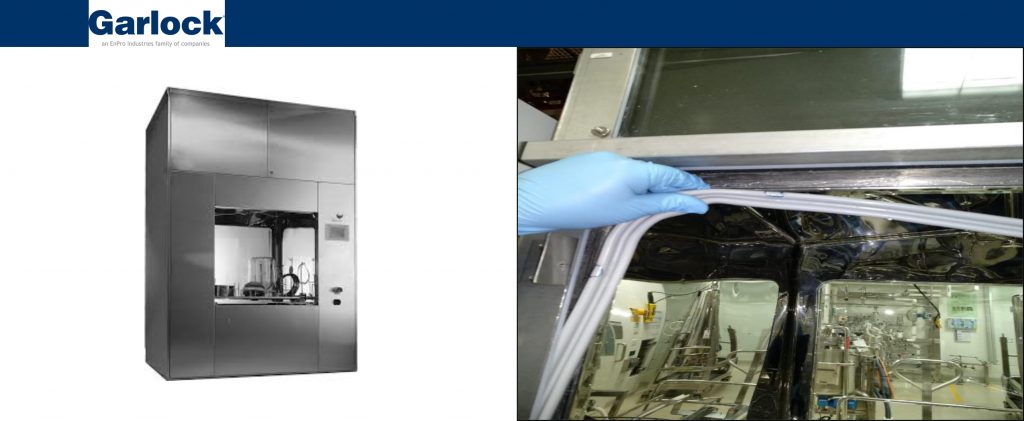 INDUSTRY & BACKGROUND
Pharmaceutical – Biological Manufacturing
A world-leading biotechnology company focused on serving people with rare diseases and other highly specialized conditions. The company's products were available in more than 100 countries across core therapeutic areas including Hematology, Immunology, Neuroscience, Lysosomal Storage Disorders, Gastrointestinal / Internal Medicine / Endocrine and Hereditary Angioedema; a growing franchise in Oncology; and an emerging, innovative pipeline in Ophthalmics.
CHALLENGES FACED
Automatic washing systems are used in Biological & Pharmaceutical production facilities to wash a large number of items. The washers use water, cleansing agents and mechanical action to wash laboratory waste and production components surface. The glass door allows user to put in and take our washer racks as well as to see the cleaning process.
As the door frequently opens and close, a good sealing is required on the door to seal against the cleaning process happening inside the chamber. Inflatable seal is thus the choice for this application.
Although inflatable seal is forgiving on the alignment of the 2 joining parts, knowledge is selecting the right profile is important. The washer was having a seal that lasts only a few weeks and cracks at the jointing area.
SOLUTION AND BENEFITS
Our team in REPASSA Singapore went in to understand in depth about the problems, and worked with CefilÁir, a Garlock group of companies, to find a solution for the sealing. Sketches were drafted from site visits and measurements and subsequently Engineering drawing were made from product specialist in CefilÁir. The seal had been installed and working well beyond expectations. It lasted much longer than the previous seal.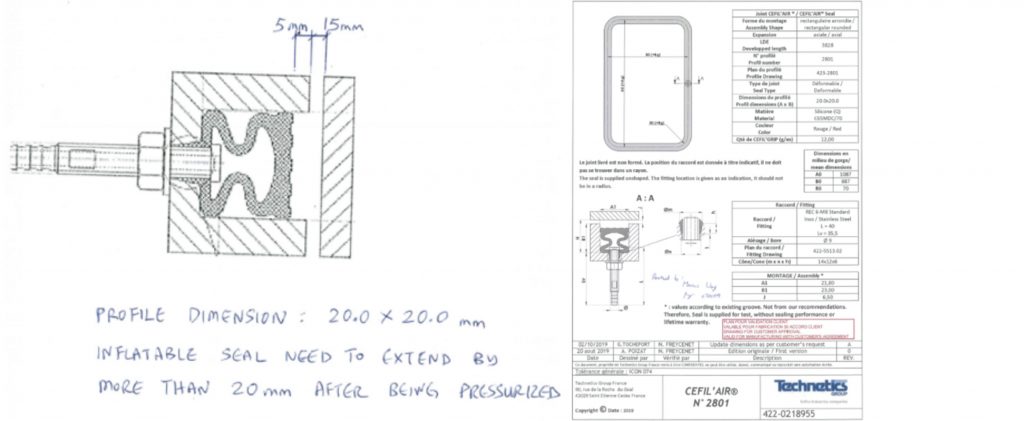 Nutritional, Food & Beverage Industry
We would like to share with you some of the successful applications which our products had helped our customers achieve better operating conditions in their manufacturing facilities.
Instant Noodles Manufacturing - Shorten Processing time of Seasoning
INDUSTRY & BACKGROUND
Food – Instant Noodles Manufacturing
A Global food manufacturer of 40 years who has been committed to providing tasty, high-quality food such as biscuits, Instant noodles etc.
The customer's Philippines Instant Noodles manufacturing facility wants to remove traditional sachet packaging that is usually put into the cup noodles. This will bring about better convenience to consumers.
CHALLENGES FACED
As the plant capacity is huge,  the need for a fast manufacturing solution for the seasoning is required. There is a need to understand product characteristic in terms of :
Hygroscopic
Content of oil and fat
Corrosive
Strong smell
Temperature sensitive
Seasoning / spices is one of application  can be produced by using high shear mixer and  fluid bed dryer.
OPERATING CONDITIONS
1. Duration : 24 hours a day
2. Capacity : 400-500kg / hr
3. Application: High Shear Mixer requires to keep temperature as low as possible due to fats power content
4. Application : Fluid Bed Dryer requires to keep temperature and humidity to be low.
SOLUTION AND BENEFITS
Solutions started by sending the products for a trial by our process technologist in Germany.
Diosna High shear mixer has a special bowl profile allow filling volume between 30 and 90% -fit for huge capacity. It fits the requirement of 400-550 kg/batch.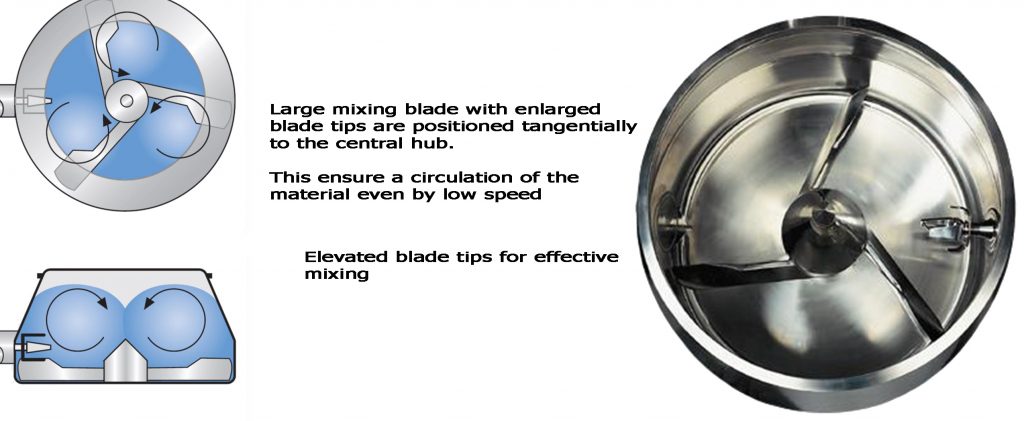 Diosna High shear mixer is able to keep the temperature as low as expected and avoid heat during mixing process as the seasoning consist of fats powder. Chopper is optimise by using U shape or Christmas trees chopper
The Binders are sprayed onto the powder by Diosna Binders delivery system which is then transferred to FBD for drying.
The Fluid Bed Dryer keeps the specific humidity of air inlet low, 3-5 g /kg dry air with Dehumidifier and silica gel wheel (desiccant wheel). When the moist air comes into the treatment area, the air moisture in the desiccant wheel will be adsorbed into dry air.
Normal dehumidifier : 8 g water / kg dry air
Desiccant: 3-5 g water / kg dry air
Chewing Gum Manufacturing - Solving Bacterial issue for Insulation in production
INDUSTRY & BACKGROUND
Food – Chewing Gum Manufacturing
A world-leading American Food manufacturer who dominates the confectionary segment with more than 50 global brands for chocolate, candies and chewing gum.
The manufacturing facility in Philippines is for Chewing gum and candies
CHALLENGES FACED
The insulation in the factories are used in the product area which are in the hygienic zone. Over time, the insulation wears out and product gets inside the cladding into the wool area. As this is inaccessible to clean unless the insulation is removed. However if the insulation is removed, it will take quite some time to install a new one. Over time, the product will leak into the wool again and the cycle will have to repeat.
SOLUTION AND BENEFITS
Our colleagues in REPASSA Philippines went in and offered our T-fit cleanroom insulation. The resulting benefits are :
Closed cells foam which does not shed particles. Suitable to use in clean room environment.
Bacterial will not be able to grow in it as it is closed cells.
T-fit insulation is pre-formed, thus it is easy to install.
It can be re-used as well and makes cleaning easy if required
Overall it simplified the insulation installation in the production area!
Pre-mix Ingredient Manufacturing - Solving abrasion issue with Sugar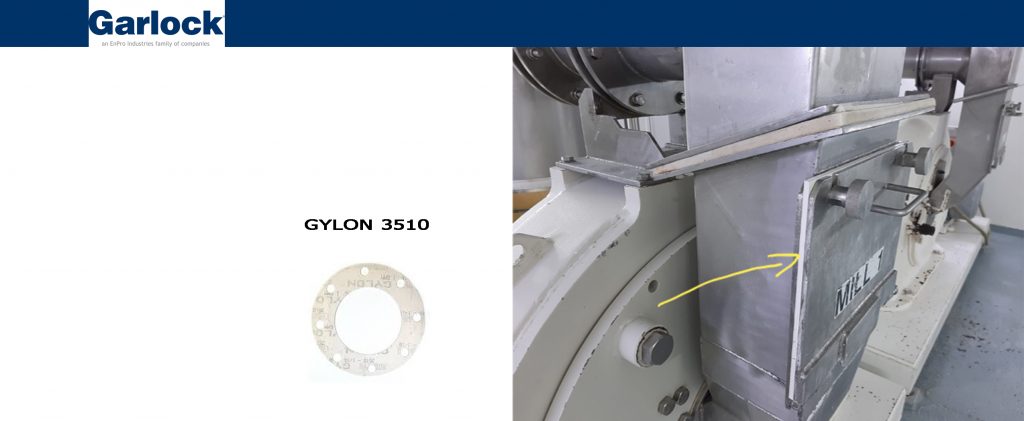 INDUSTRY & BACKGROUND
Situated in Singapore, this manufacturer has been operating since 1992, specializing in dry mix ingredient solutions for the beverage, dairy, confectionery sectors of the food industry. The factory provides blending solutions with a state of the art manufacturing facilities with the highest food-safety standards and protocols, starting from quality checking of inbound ingredients to final blends before arriving at their customer's premises.
The factory has an annum plant capacity of 65,000 metric tonnes, supplying premixes to major food and beverage corporations. Sugar remains a very important part of their business and is supplied through their parent company.
CHALLENGES FACED
Sugar known to be abrasive is causing alot of wear and tear on the inspection door on a sugar mill for coarse and fine sugar. The soft EPDM gaskets that were used were changed out as frequent as 1-2 weeks.
SOLUTION AND BENEFITS
Following successful trials across several application areas, Garlock's GYLON® 3510, a barium sulfate filled PTFE gasketing material were proposed. Traditional PTFE are hard and does not provide good sealing and frequent opening of the inspection door as it does not have memory. GYLON® on the other hand is a modified and restructured PTFE which has benefit over the traditional PTFE.
Ice-cream Manufacturing - Solving Frosting & Condensation issue on pipings
INDUSTRY & BACKGROUND
Situated in Indonesia, this manufacturing company focused on dairy-based and frozen food products. The product range includes Milk (UHT & Pasteurized), Juice, Yogurt, Ice Cream, Soft Ice Cream, Chocolate, Mayonnaise & Salad Dressing, Cheese, and custom products as per client request.
The manufacturing facility has maintained high standards of quality control and food safety which puts them in the list to manufacture for international franchises within Indonesia such as Dairy Queen, Wendy's, KFC, McDonald's and more. Theirr R&D, manufacturing capacity, and track record also lend themselves to toll manufacturing.
PROCESS INFORMATION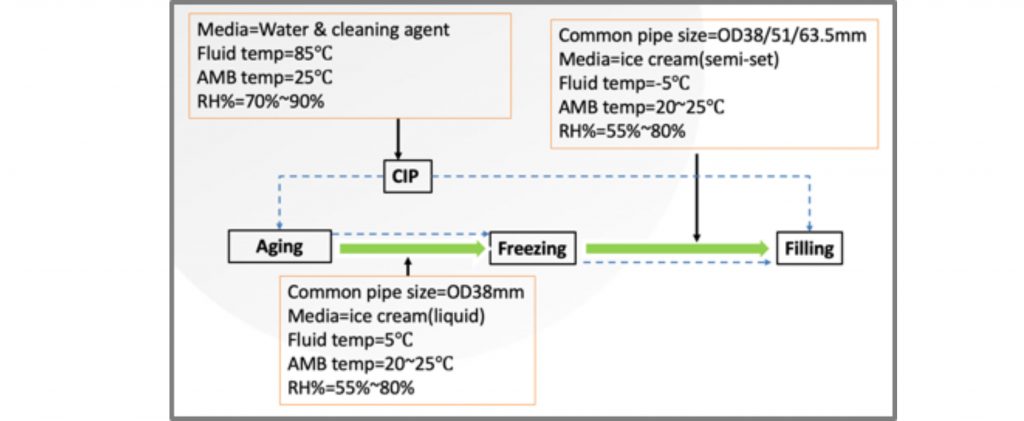 A lot of pipings and equipment were not insulated and the risk of uninsulated areas are :
CONDENSATION / FROST
BACTERIAL GROWTH
CROSS CONTAMINATION
THERMAL SHOCK TO LINE WHEN TEMPERATURE CHANGES REGULARLY BETWEEN -5/5C AND 90C- DURING CIP
LOST OF ENERGY TO CONSTANT COOLING REQUIRED TO KEEP TEMPERATURE LOW
Some of the pipings and equipment have very narrow spaces and traditional insulation are bulky and hard to insulate.
SOLUTION AND BENEFITS
Our team In REPASSA Indonesia went in with a solution with T-fit closed cells insulation which is 12.7mm thick. We were able to help bring certain benefits to the manufacturing facility with  our insulation material :
HYDROPHOBIC THUS VERY SUITABLE IN SITUATION OF CONDENSATION
INSULATION MATERIAL DOES NOT SHED PARTICLES AS IT IS CLOSED CELLS
NO DEGRADING OF INSULATION MATERIAL AS IT IS MADE OF PVDF
LOW THERMAL CONDUCTIVITY OF 0.0317 W/(K)
FIRE CERTIFICATION