Capsule Polisher & Metal Detector
The Krämer capsule polisher will elevate, polish and dedust any size of capsule. The rotational spiral brush designed specifically for capsule applications polishes gently and removes excess dust. The perforated housing allows ideal removal of the dust. The device outlet can be fitted with peripherals such as metal detectors, empty capule sorters and diverters.
Features
Upward conveying range of 800 to 2000 mm
Dust-tight Tri-Clamp connections
Available with Ceia, Lock and Safeline metal detectors
Quiet operation < 68 dB
Speed continuously adjustable
Optimal cleaning of capsules with gentle conveying
Compact design, minimum footprint
Modular structure (400 mm)
Easy assembly and disassembly, no tools are needed
Easy to clean
Classification: Atex Zone II 2D/- Db 140 °C
Metal Detector
Metal detection is not only about putting your product thru and it will detect all metal contaminants. To safeguard your process, we have to look into the Aperture and Sensitivity of the Metal Detector
CEIA PHARMACEUTICAL METAL DETECTOR design and Construction is compliant with GMP criteria. FDA Code Title 21 Part 11, no manual calibration or tuning is needed and exclusive Auto-Learn system for pharmaceutical products are some of the main key features of CEIA.
Features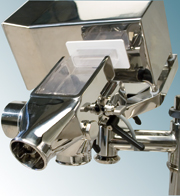 CEIA THS/PH21N Metal Detection Systems feature extremely high detection sensitivity towards contaminating metals, whether ferrous, non-ferrous or stainless steel, even when these are present in tiny quantities
FDA 21 Part 11 compliant
The THS/PH21 Metal Detector Series is a high-sensitivity, high-precision measuring instrument. The response from the device is used to directly command ejection of the contaminated product and to verify that it has in fact been eliminated.
FDA Code Title 21 Part 11 prescribes rigorous criteria for access to programming and computer data protection, which have been fully adopted in the CEIA THS/PH21 Series firmware. User access is only possible via a User Name and Password login under the control of the System Administrator, who programs and manages individual user profiles and user functions. As a result, the requirements for security, integrity and traceability are satisfied.
All events performed by the THS/PH21 Metal Detector are recorded in a data log to comply with FDA Part 11 protocol and assist in root cause analysis. The events include detection, ejection, program operations, passwords and periodic functional test phases using standard test samples.
Real-time embedded self-calibration control
The Self-Calibration control allows maximum repeatability and performance consistency over time and with environmental changes.
Continuous auto-test function ensuring maximum production safety
Special electronic stimuli are sent to the transmission and reception chain of the THS/PH21 Series Metal Detector, causing variations in the detection signals which provide checks on detection characteristics.
These variations are compared with the reference values stored in the memory of the metal detector at the time of the factory calibration test. This produces an automatic certified check of the system's sensitivity.
Exclusive global auto-learn system
The Auto-Learn System provides simultaneous maximum sensitivity to all metals starting from a single learning transit. The THS/PH21 Series employs an exclusive Auto-Learn system for pharmaceutical products, which allows optimization of the detection sensitivity to all metals with the maximum speed and precision, equivalent to hundreds of conventional learning transits. This results in levels of precision and efficiency never before obtained.
New diagnostic tools
The THS/PH21 Series introduces new tools for the installation and maintenance technician to measure the environmental compatibility of the metal detector. These are functions that would otherwise have required the intervention of external instrumentation, now implemented in the microcomputer control of the device itself. The measurements include general mechanical and electromagnetic environmental compatibility.
Modern, rugged and user friendly interface
Industrial rate design
Rapid data entry with extended keyboard
Easy to read, high-contrast graphic display
Rugged, antivandalic stainless steel keyboard. Organic graph display with extremely high contrast (3000:1) and a viewing angle up to 180°, and an extended alphanumeric keypad for quick keystrokes.
Protection degree: Power Supply Box: IP65 (IEC60529); Antenna & Ejection System: IP67
40 users available (including administrator)
Quick access function. A new function, activated simply by pressing a dedicated key, allows the most frequently-used functions to be directly recalled. These functions are programmable by the operator.
Ejection system specifications
Monolithic AISI 316L Stainless Steel Body
Advanced mechanical and electronic solutions guarantee the integrity of the inspected product
Extremely quick response time provides full safety in the ejection of contaminated product
Double confirmation system carefully monitors and controls the complete opening and closing of the ejection flap
Bin full sensor kit (on request)
BT wireless communication connectivity
In the THS/PH21 Series, local connection to the maintenance technician's computer no longer requires physical access to the interior of the detector or the use of unwieldy connection cables. The BT wireless communication connection can be used for programming, monitoring of the signals via the CEIA MD-Scope program and the transfer of the data contained in the Metal Detector's events memory.
Network communication capabilities
The Metal Detector can be linked to an Ethernet network (optional IXC module required). In association with the THS Production Plus Software it enables remote management of production, collection of all technical and operational events, generation of statistical and traceability reports in compliance with FDA 21 CFR part 11 requirements.
MD-Scope
Software Diagnostic Package complete with connector cable and hardware key:
Remote programming
Signal input/output
Alarm threshold and amplitude of the signal
Oscilloscope functionalities
THS Production Plus
Connects and Acquires Data from Multiple THS Detectors via Ethernet LAN
Provides Connection to an External Database and Definition of a Programmable Block of SQL Instructions for each Metal Detector Event
Enables Data Base Management and Back-Up of Metal Detector events
Report Data Exportable in HTML and CSV format
Provides User Authentication and Manages Electronic Signatures and Records
Allows Data Integrity and Operator Auditing
FDA Requirements Compliant, Title 21 of the Code of Federal Regulations (CFR)
E-mail sender
IXC Module
Gateway to THS Production Net Management System
Integrated Web-server
Dual 100base-T Ethernet
Dual Full Speed USB interface
Wi-Fi 802.11b/g
100,000 events internal data logger
Additional web-server functionality
Web-server interface
Built-In MD Scope. The MD Scope functions (including oscilloscopes) are available to every user connected to the Metal Detector via Ethernet or WiFi.
Status. Replicates every message displayed by the THS (updated each 5 s).
Products. Displays the list of products stored into the THS memory, the selected product is shown in green. This page allows the product to be changed.
Products export. Allows selection of all or part of the products stored in the THS memory in order to export them.
Products import. Allows importation of all or part of the products exported.
Buffer export. Allows exportation of events occurred in a selected time frame.
Configuration backup/restore. Allows backup or restoring of the connected system configuration.
Configuration export/import. Allows the configuration to be exported or imported from other Metal Detectors of the same model, installed on the same system.
Options