For supporting flexible hoses
Hose Supporting System
This simple and easy to install design supports and elevates hose will help eliminate hose abrasion & bacterial entrapment during wash down. The bright yellow design offers safety indication to operators will help ease often workplace safety issues.
Features & Specifications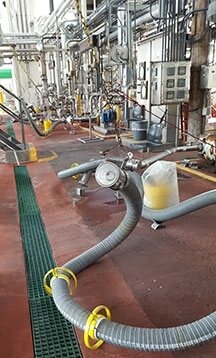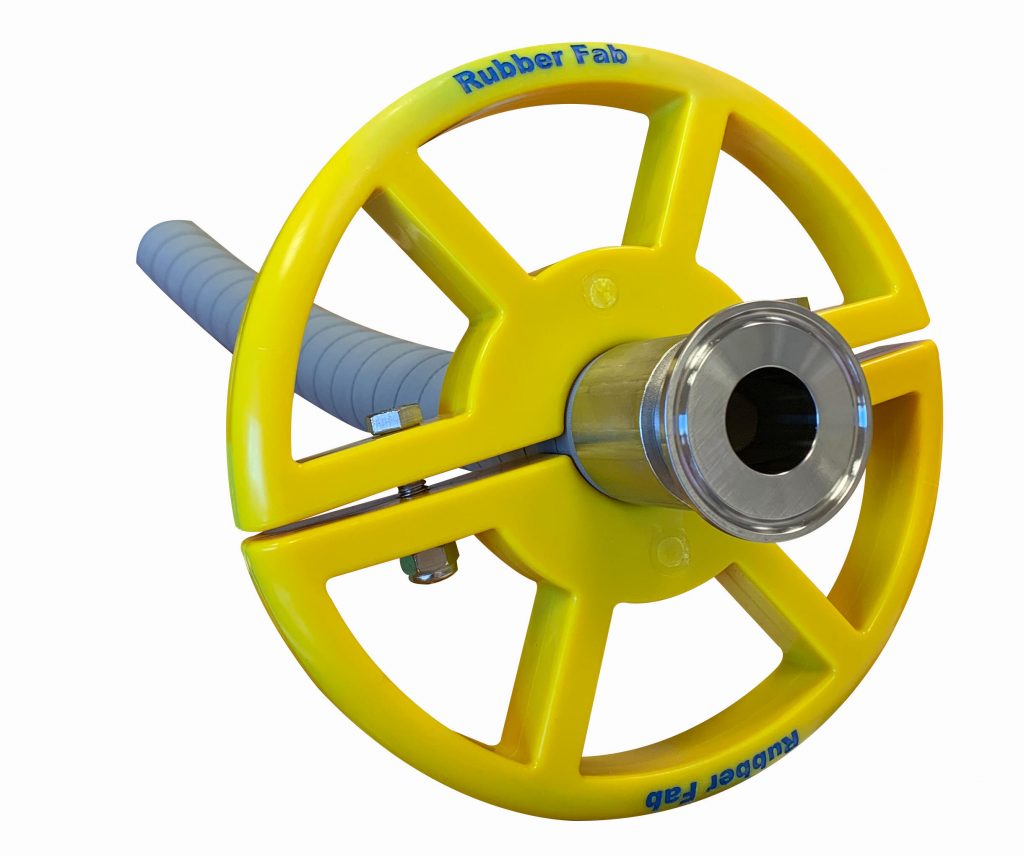 Golden Bridge Features
Safety yellow for high visibility
Easy installation – new two piece design
Supports and elevates hose and sanitary stainless steel piping systems
Eliminates hose abrasion
Protects hose fittings from damage
Open face design eliminates bacterial entrapment during wash down allowing wash fluids to reach floor drain
Raised design lifts hose and stainless steel piping off floor stopping damming and preventing bacterial growth

Easy grip handle aides in hose and ss pipe

movement, placement and handling
Protects floor from damage
Available Sizes
| | | | |
| --- | --- | --- | --- |
| Part Number | Hose Size | Size | Assembled Weight/lbs |
| GOLDENBRIDGE-8-16-NM | 1.4″ to 1.6″ OD | 8″ | 1.20 |
| GOLDENBRIDGE-8-24-NM | 2.04″ to 2.16″ OD | 8″ | 1.00 |
| GOLDENBRIDGE-8-32-NM | 2.6″ to 2.7″ OD | 8″ | 1.00 |
| GOLDENBRIDGE-10-40-NM | 3.1″ to 3.3″ OD | 10″ | 1.40 |
| GOLDENBRIDGE-10-48-NM | 3.6″ to 4.0″ OD | 10″ | 1.20 |
| GOLDENBRIDGE-10-64-NM | 4.7″ to 5.0″ OD | 10″ | 1.20 |
For product identification
Polyolefin Heat Shrink Tubing is sleeved over the flexible hose and using a heat gun to shrink it to provide a colour labelling for your hose. This allows operator to quickly identify hoses for different sectors.
For the Quality Assurance you required
Sanitary screens gaskets ensure a consistent product reaches the consumer and can be used as a means together with the flexible hoses to prevent bigger particle size from reaching the downstream process.
Sight Gauge to see your product conditions
FEP Sight Gaugeis sturdy which makes it favorable for high stress applications and will not impart taste or odor. It allows operators to see the conditions of the product flowability.
To Product your Hose Connection
Rubber Fab's Hose Donuts are collars for the outer surface of a silicone hose. The hose donut can be used on a silicone hose and fitting for added protection of the hose ends during use and while storing hoses. The silicone hose donut is also great for keeping hose ends off the floor where bacteria may collect.