Filling Machine for Liquid Products

From 100ml to 1000L, we supply rinsing, filling, capping & labelling machines, as well as end-of-line solutions dedicated to the packaging of liquid products. The range of Semi-Automatic to Fully-Automatic machines served the  Foods, Pharmaceuticals, Home & Personal Care, Dairy & Oils industry
SEMI-AUTO BOTTLE RINSER
SEMI AUTOMATIC BOTTLE RINSER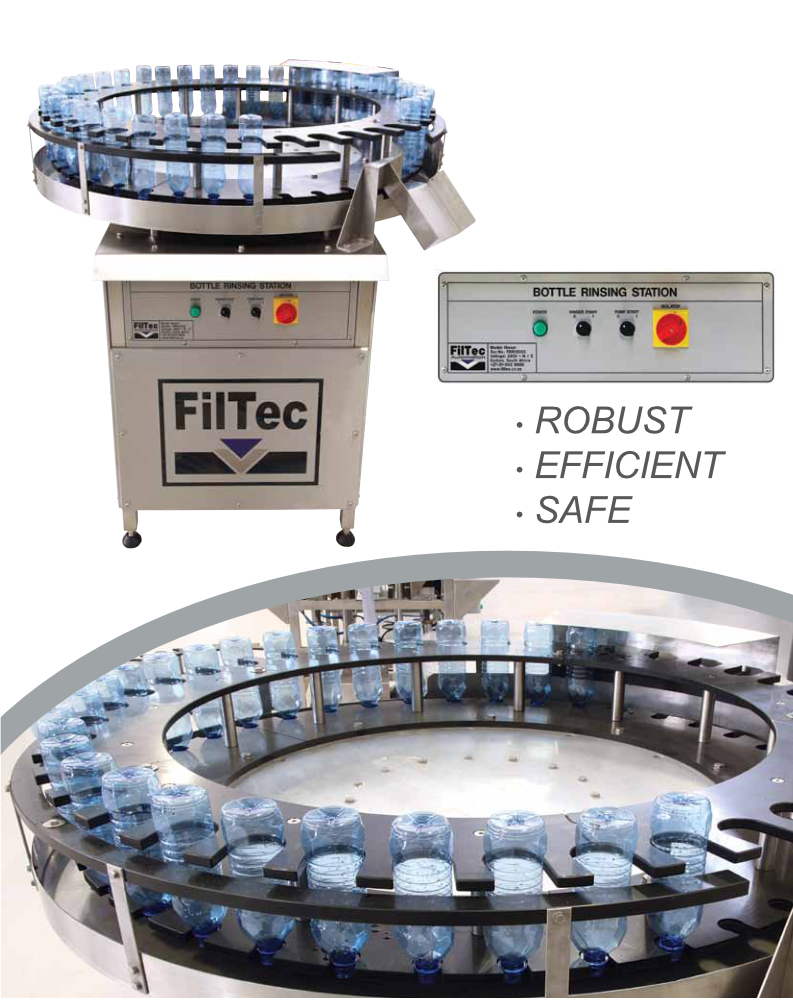 Semi Automatic Bottle Rinser
to rinse bottles with water or ozonated water. Bottles are hand loaded into the rinser pockets in the star wheel as it rotates. A pump supplies rinse water under pressure to the rinse nozzles to rinse the inside of the bottles.
The bottles then drain before being ejected to an external bin. The star wheel is a change part that is quickly changed out when bottle sizes are changed. A very basic control system is supplied with the machine allowing the operator to adjust the speed to the desired output.
SEMI-AUTO FILLING AND CAPPING MACHINE (500ML - 30L)
PACK'R dosing carrousel performs two operations :
Filling : The filled quantity is controlled by the weight of the product in the container.
Control after filling : Weight control allows checking the measured quantity in comparaison with the target, self-correction for any drift, and making statistics and production ratios.
NORM :ATEX / Explosion proof design
CAPACITY :
From 500ml to 30L
CAPS :
Screw capsPush-on capsFlexspout
SEMI-AUTO PALLET DRUM/IBC FILLER-CAPPER (200L - 1,000L)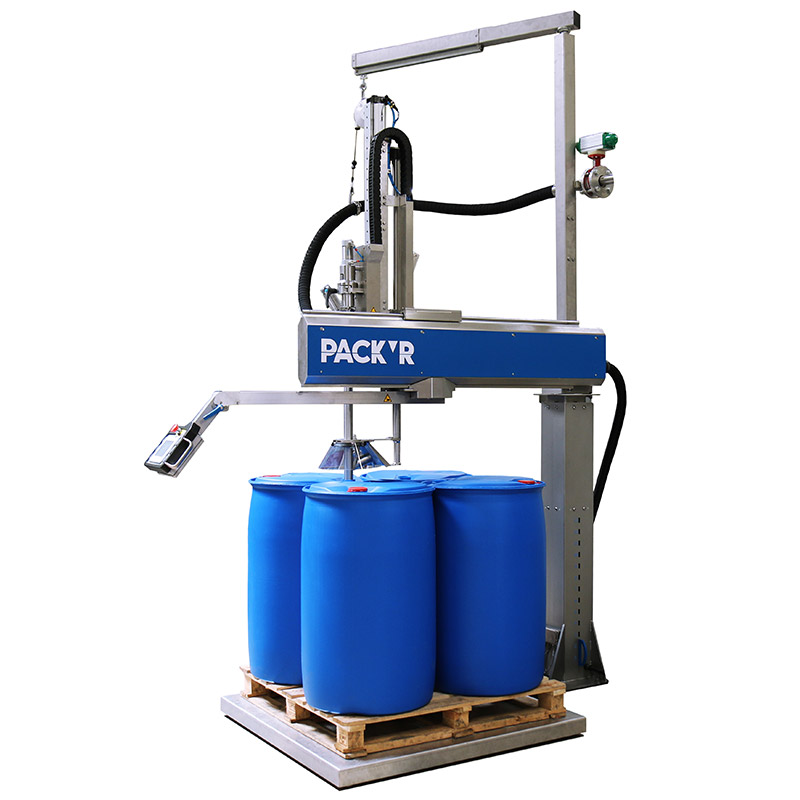 Pallet drum/IBC filler-capper
Easy and quick installation
Ergonimic and compact design
Easy manual operation
Many options and ancillary equipment available: – Conveyor systems and controls – Manual bunging and crimping tools – Customized controls and interfaces – Operator platforms and cleaning stations
NORM :
ATEX / Explosion proof design
CADENCE :
UP TO 40 DRUMS / HOUR
CAPACITY :
From 20L – 200L drums and IBCs
CAPS :
Metal bungPlastic bungMetal cap sealsPlastic cap seals
AUTOMATIC STEP BY STEP FILLER CAPPER (500ML - 5L)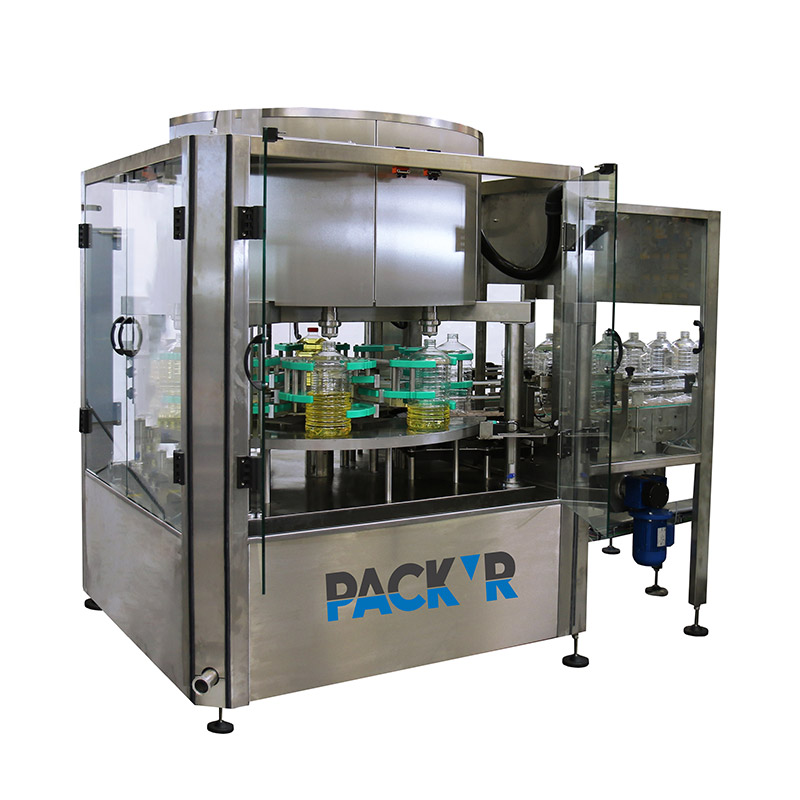 Filling : The filled quantity is controlled by the weight of the product in the container.
Control after filling : weight control allows checking the measured quantity in comparaison with the target, self-correction for any drift, and making statistics and production ratios.
Many possible configurations and applications allow you to conceive a very flexible production line which is able to evolve according to requirements
Several capping stations – Several formats on each station – Ultra-fast format changeovers
AUTOMATIC HIGH SPEED ROTARY FILLER CAPPER (100ML - 5L)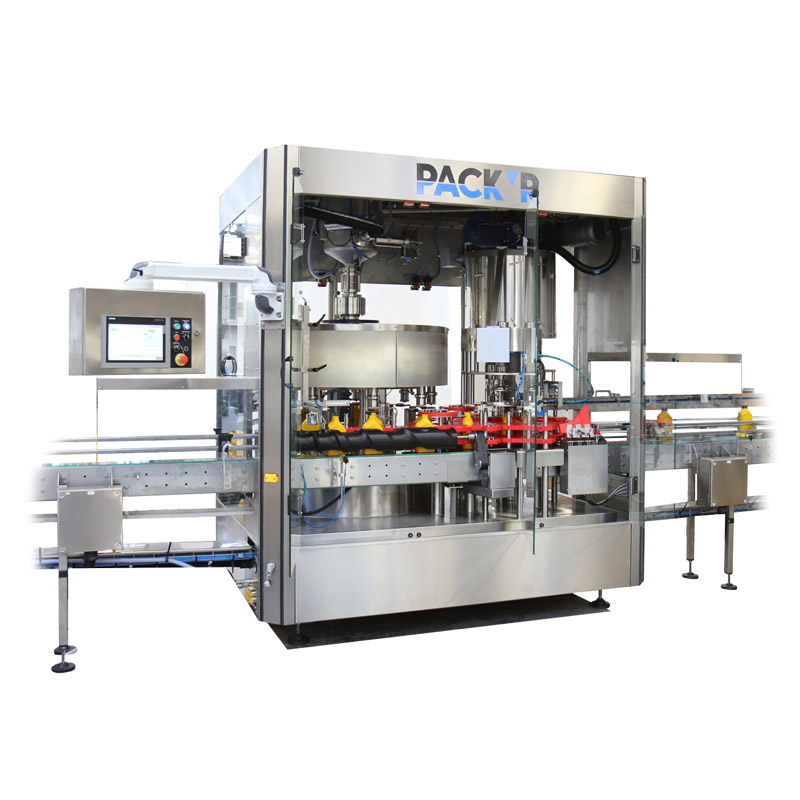 Filling : the filled quatity is controlled by the weight of the product in the container.
Control after filling : weight control allows checking the measured quantity in comparaison with the target, self-correction for any drift, and making statistics and production ratios
Many possible configurations an applications allow you to conceive a very flexible production line which is able to evolve according to your requirements:
Several capping stations
Heatsealing function available
Several formats on each station
Ultra-fast format changeovers
NORM :
ATEX / Explosion proof design
CAPACITY :
From 100ml to 5L
CAPS :
Screw caps/Crimp cover/Flexspout
AUTOMATIC COMPACT ROTARY FILLER CAPPER (500ML - 30L)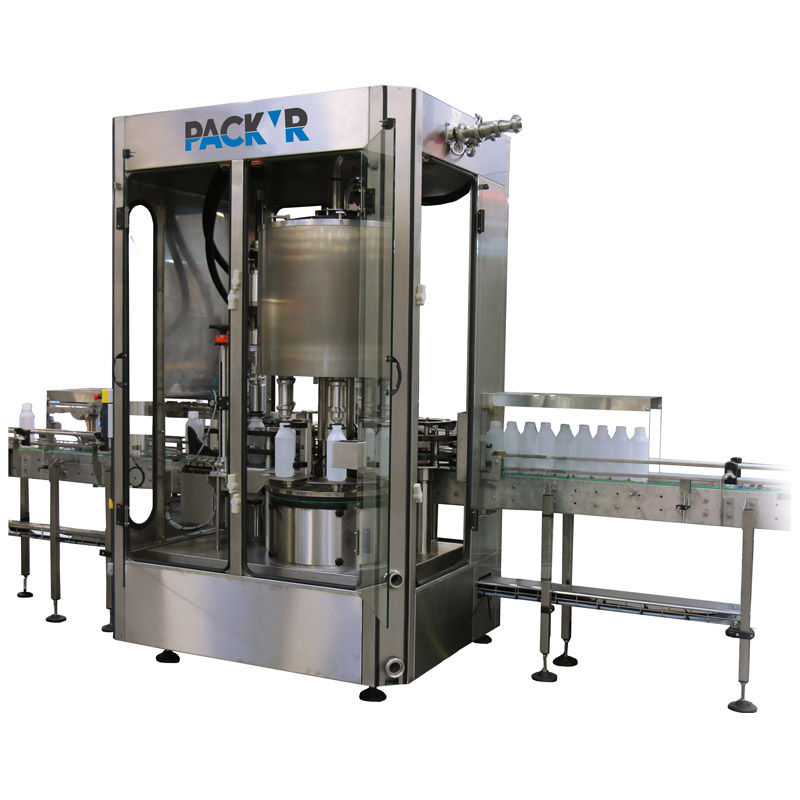 Filling : the filled quantity is controlled by the weight of the product in the container.
Control after fillling : weight control allows checking the measured quantity in comparison with the target, self-correction for any drift and making statistics and production ratios.
The PACK'R COMPACT capping system in the outfeed starwheel allows to manufacture very flexible machines with high productivity
Screw cap : up to 60 cps/min
Push-on caps : up to 100 cps/min
Full format changeovers (containers + cap) last less than 30 minutes
NORM :
ATEX / Explosion proof design
CAPACITY :
From 500ml to 30L
CAPS :
Screw caps / Flexspout
AUTOMATIC PALLET DRUM/IBC FILLER-CAPPER (200L - 1,000L)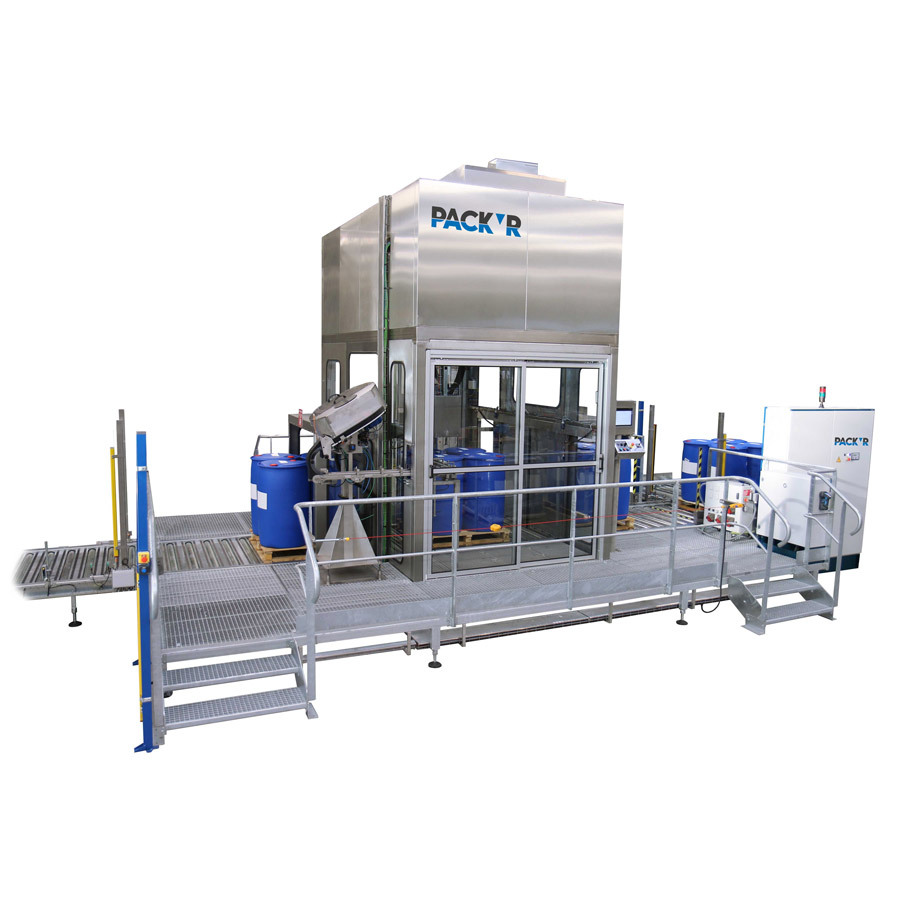 Integration of full automatic functions: – Bung detection with 2D camera – Bung removal – Product filling (with automatic grounding for hazardous execution) – Bung replacement ( with torque control) – Cap seal crimping – Conveyor and controls system easily integrated with filler
Labour cost reduction (no human intervention)
NORM :
ATEX / Explosion proof design
CADENCE :
UP TO 40 DRUMS / HOUR
CAPACITY :
From 20L – 200L drums and IBCs
CAPS :
Metal bung/Plastic bung/Metal cap seals/Plastic cap seals
AUTOMATIC HIGH SPEED PALLET DRUM/IBC FILLER-CAPPER (200L - 1,000L)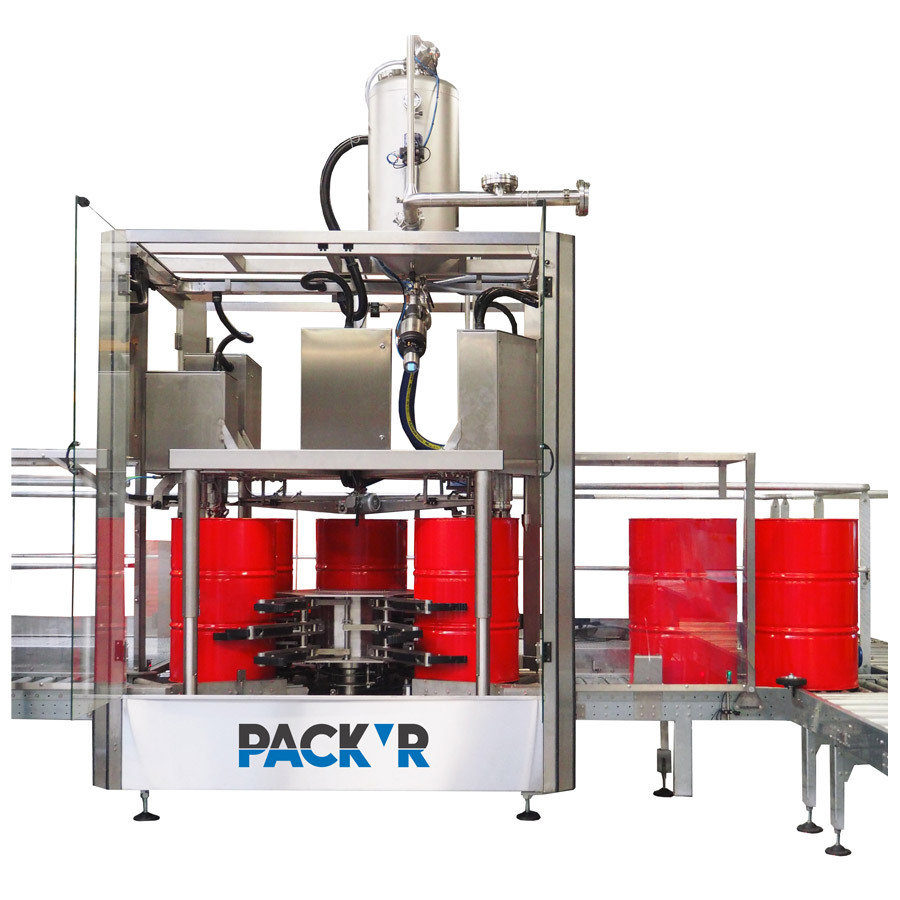 High-speed filling machines – Similtaneous executions of automatic operations on each station : debunging, filling, bunging, crimping – Fast format changeovers (Click&Play tooling System)
Precise positionning of drums during transfers from station to station (held in place by grippers.)
Quick return on investment (no giveway/ high production capacity)
CADENCE :
UP TO 120 DRUMS / HOUR
CAPACITY :
Drum From 60L to 220L
CAPS :
Metal bung/Plastic bung/Metal cap seals/Plastic cap seals