Serialization & Aggregation Solutions
Managing pharmaceutical serialization and track and trace requires a strong and configurable structure solutions from the company providing it who understands the ever-changing traceability regulations. Seavision's complete software suite covers from level 1 to level 3 and is composed namely: Site Server, HMI Supervisor, Vision systems for serialization and aggregation.
In just over 2 mins, the video here explains in a quick glance at the reasons why Pharma companies should approach to Track &Trace.
ADVANTAGES
Regulatory compliance: flexibility matches with performances.
Flexibility, scalability, and reliability are the main strengths of this serialization solution – not to mention complying with the new regulatory requirements that are coming into force throughout the globe. Thanks to the modular structure, which is built and designed on best practice, this solution can be tailored to each customer's needs and can be upgraded at any time in order to comply with any future global pharma traceability regulations (e.g. DSCSA in the US, the Falsified Medicines Directive in Europe, CFDA in China).
Hardware/software integration.
Our serialization solution has been developed with the highest integration capabilities to allow for easy connectivity with existing corporate systems (e.g. MES, ERP, Corporate Repositories or National Authorities). In addition, it provides the flexibility to adapt to both brand owner and CMO requirements in relation to serial numbers, data and event management process flows.
Providing our customers with a complete serialization solution that fully integrates into their packaging lines is one of our primary goals. Our R&D team has strong in the field experience with most OEMs, ensuring we design products that suit both existing and new machines.
The strong integration with machines PLCs allows this solution to manage all the typical exceptions (machine jams, cartons/case rejections, etc.) occurring on the packaging line during the production process, thus ensuring safety whilst maximizing Overall Equipment Effectiveness (OEE). Following an advanced logic, through the exchange of I/O signals with the machine's PLC, we can track objects and their status in every manufacturing phase. The efficiency of this integration approach results in reliable automatic anomalies management, and at the same time, it enables an accurate measurement of equipment performance.
LEVEL 1-2 VISION INSPECTION AND PAT TOOLS
LEVEL 1-2 TRACK AND TRACE WORKSTATIONS
Maw Manual Aggregation Workstation
Bundle Aggregation Workstation
LEVEL 3 MANUFACTURING PLANT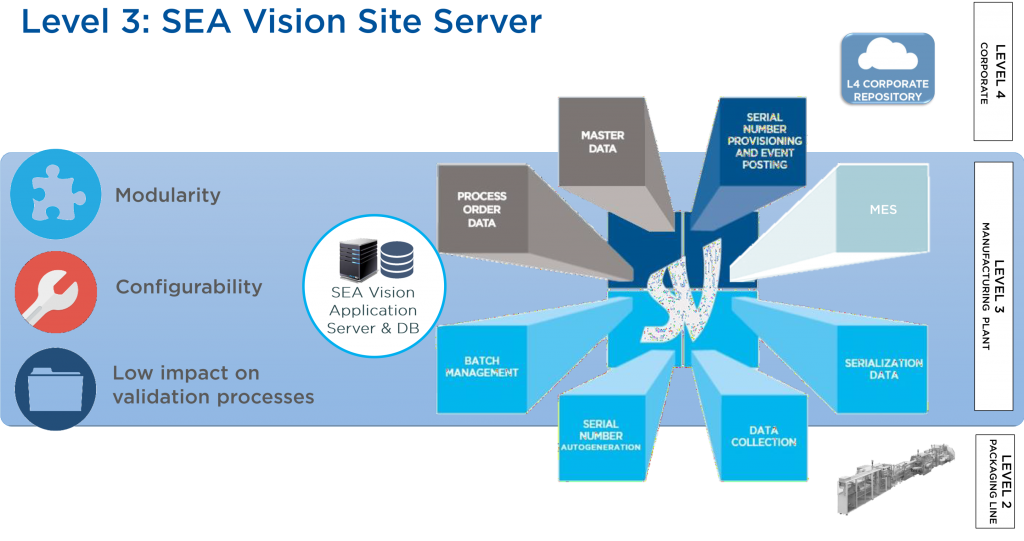 LEVEL 4 CORPORATE LEVEL
•   Events and Serial Number Long term Repository
•   Serial Number Self Generation
•   Connection to regulatory agencies
•   Communication with Third parties
•   Track&Trace Solution
LEVEL 1-4 4.0 PHARMA SOFTWARE SUITE