Tablet  & Encapsulation Toolings
We do not only machine & supply compression tooling, Natoli and us takes an approach to help you look into your formulation and seek ultimately IMPROVEMENT in your current usage of toolings.
Natoli manufactures standard and specialty tooling in various configurations including carbide-tip, multi-tip, micro-tab, rotating heads/tips, IMA Comprima tooling, Kilian type, 3D exotics, die table segments, lined dies, and more
Natoli's advanced micro-precision engineering is one-of-a-kind in punch and die manufacturing. The quality and experience we put into each tablet compression tool is unmatched among punch and die manufacturers.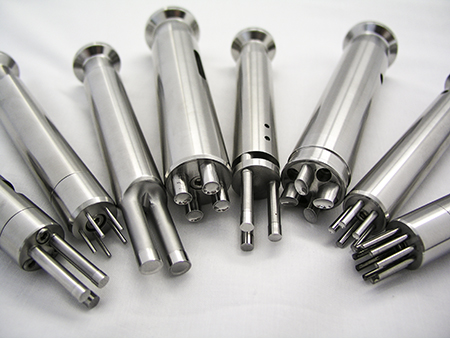 PREMIUM SPARE PARTS, CHANGE PARTS, AND CHANGE PART KITS FOR MOST MAJOR BRANDS OF ENCAPSULATION MACHINES.
From dosing disks, magazine assemblies, and wiper blocks to upper and lower segments, pins, and more, our premium change and spare encapsulation parts are suitable for use with ACG, Bosch, Capsylon, Bohanan, Sejong, and other encapsulation machines.
The principal purpose for segment alignment is to allow capsules to be separated reliably and rejoined accurately. To accomplish this, the upper segment must be precisely aligned with the lower segment and the segment surfaces must be parallel.
To ensure the most accurate segment alignment and fit possible, Natoli manufactures universal alignment pins and bores for all segments. The addition of universal alignment bores in segments and the use of universal alignment pins help correct capsule bore misalignment and even enables slightly worn segments to operate more effectively. This improved method of segment alignment is also helpful when granular formulations are used as such products have a tendency to cause capsules to split.
Clean tools are critical to producing quality tablets, while a lack of cleanliness is the leading cause for tablet press failure, insufficient tablet quality, and discoloration (black specks). Natoli's Stainless Steel 3-Piece Ultrasonic Cleaning System has a cleaning cycle that can be completed in 20 minutes or less and provides a controlled consistency validating the cleaning process.